The 2014 edition of the Exploring Enderby visitors guide is now available! Inside, you can learn about how to experience Splatsin culture, hike natural trails, play golf, take in a movie at the Starlight Drive-In Theatre, enjoy local art, and much more!
The Enderby visitors guide includes an event calendar, information on paddling and tubing times, and an accommodation and dining directory.
Discover today why Enderby is such a great place to live, work, and play!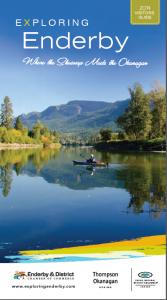 From the guide:

Enderby, British Columbia offers the perfect blend of friendly rural charm, pristine natural beauty and unparalleled outdoor adventure. Hike the iconic
Enderby Cliffs
for breathtaking panoramic views in all directions, or simply savour the sights, sounds and tastes of our various farm markets. Whether you are seeking adventure, family fun, arts and culture, or just a way to escape the ordinary, your Enderby experience is bound to be one you won't soon forget.
Exploring Enderby is produced by the Enderby & District Chamber of Commerce.