Girl Guides are coming to Enderby!
The Spirit of Adventure Rendezvous (SOAR for short) is a week-long "back to basics" outdoor camp. SOAR is sponsored by the BC Council of Girl Guides of Canada. It is for girls between the ages of 11 and 18. The seventh SOAR will be held in Riverside Park in Enderby in 2014. The event will run from July 19 to 26.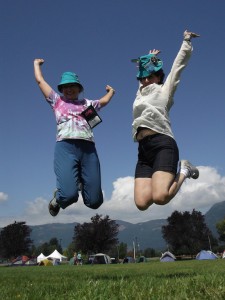 A total of 2,000 girls and leaders from BC, other provinces and other countries (Ireland, Ivory Coast, Mexico, New Zealand, Philippines, United Kingdom and the United States) attended SOAR in 2011. As many as 2,500 participants are expected to arrive in Enderby in 2014. The program consists of traditional camp-type activities such as cooking, campfire sing-alongs and crafts. The girls may sign up to try out activities in each of the program areas, including active recreation, crafts, environment, fine arts, service, science and technology, and waterfront, as well as go on day trips to tour the local area.
The camp is patrolled 24 hours per day and has a 24-hour staffed First Aid Station.