The City of Enderby is beginning construction of Salmon Arm Drive on August 21.
The project will occur in two phases on Salmon Arm Drive. Phase 1 is from West Enderby to Northern Avenue. The general contractor is Mountain Side Earthworks. Phase 1 road works will be completed in mid to late October, with work on a retaining wall extending into November.
During Phase 1 construction, Salmon Arm Drive will be closed to through traffic between Northern Street and West Enderby Road. Local access will be maintained, as well as access for emergency vehicles, school buses, and garbage and recycling trucks. A detour will be provided for through traffic via Northern Avenue and Northern Street.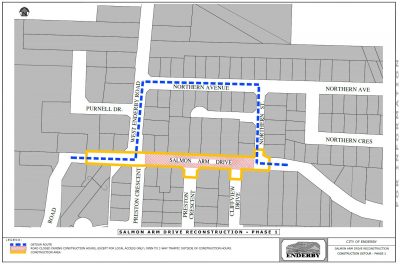 The Salmon Arm Drive rehabilitation project will renew the road base and water, sewer, and storm utilities. The length of the project is approximately 900 metres. There will also be improvements to walkability and safety, including new street lights, a second raised crosswalk near the western access to the raised multi-use path, and a sidewalk for that part of Salmon Arm Drive located between the accesses to the raised multi-use path. Salmon Arm Drive is a significant residential collector road that accepts traffic from much of the northeastern area of Enderby.
Phase 2 will start in Spring 2018. Substantial completion of the project is set for early summer 2018.