Enderby was thrilled to host the Girl Guides' Spirit of Adventure Rendezvous (SOAR) in July 2014. SOAR is a Girl Guides camp that brought nearly 2,500 participants to the heart of Enderby. Girl Guides came from across Canada, as well as international guests from the United States, the United Kingdom, New Zealand, Australia, Grenada, and Japan.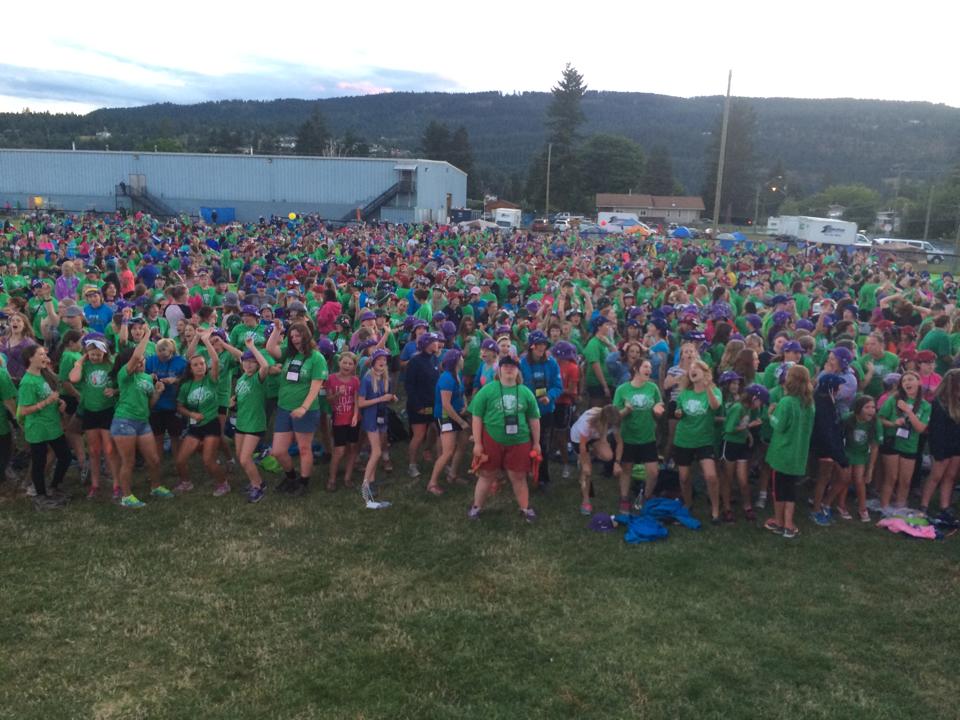 SOAR was a "virtual city" that nearly doubled Enderby's population for a week!
However, on July 23, the weather took a turn for the worse. A severe thunderstorm warning was issued. Starting in the afternoon, heavy winds, thunder, lightning, and around 20 millimetres of rain hit the SOAR campsite.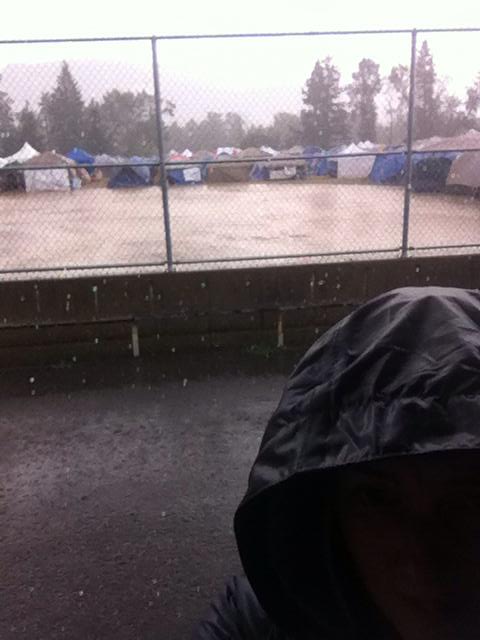 Due to the threat of lightning strikes, the Girl Guides took shelter in the adjacent Enderby Arena and Curling Rink. Making the best of the situation, the Girl Guides held an indoor picnic and crafted badges, crests, and temporary tattoos the memorialize the crazy weather. The weather was intense, but the Girl Guides were safe.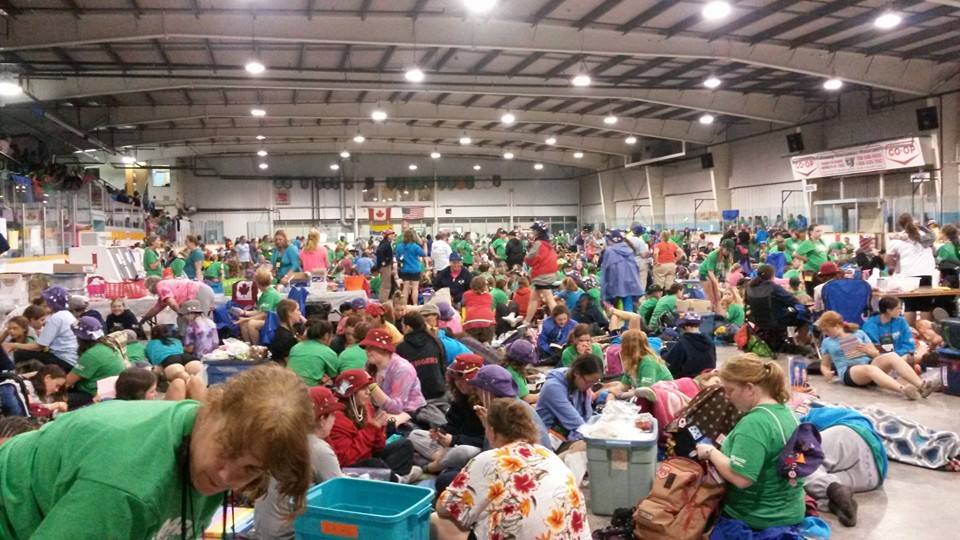 Unfortunately, after the weather cleared, Girl Guides staff discovered that some of the tents were knocked over by the wind or not secured properly. This soaked the bedding and clothing of many Girl Guides. It threatened to make the rest of the week-long camp more than a little uncomfortable for the Girl Guides.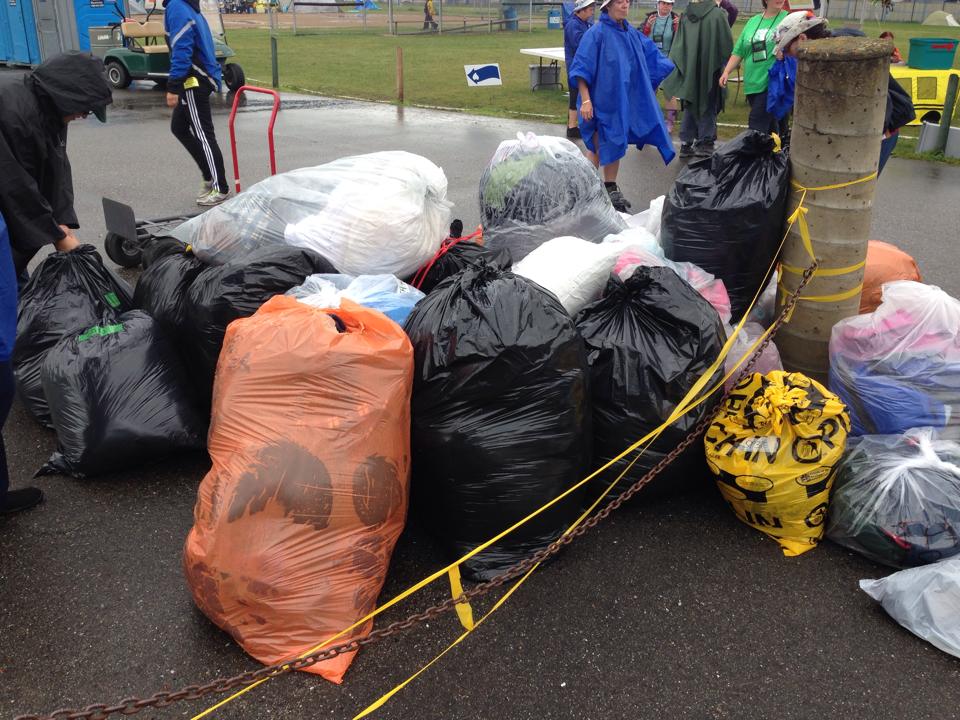 And that's where the citizens of Enderby, with help from neighbouring Armstrong, stepped up to the plate. A few well-placed calls and posts on social media mentioning that our guests needed help was met with an overwhelming response from the community. Within a few hours, all of the Girl Guides' soaked bedding had been hauled off to clothes dryers by local residents and businesses. It was promptly returned to the Girl Guides, occasionally accompanied by a note of well wishes or a crest from the Enderby & District Volunteer Fire Department.
Mayor Howie Cyr expressed his pride over Enderby's response in the aftermath of the storm. "I am so very proud of our community's response to the situation during SOAR 2014. While it was I who accepted the thanks of those assembled during the closing ceremonies, it truly was on behalf of the community, and I thank everyone. I really do believe this is something that reminds us all of the fact people of all stripes can respond in times of hardship."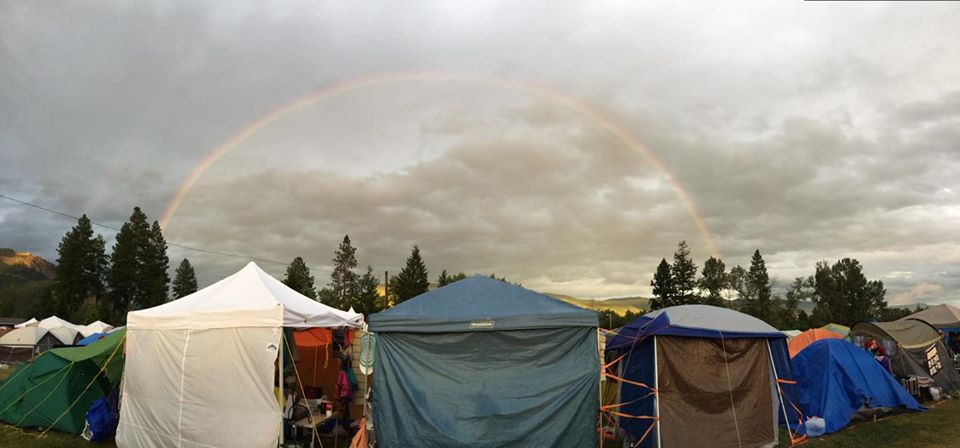 The gesture not only touched the Girl Guides at SOAR, but parents around the world. Below are only a few of the many expressions of thanks received from Girl Guides and their parents.
A huge heartfelt thank you to the entire town of Enderby for opening your town to the Girl Guides for their SOAR camp. Bruce and I picked up a very tired but happy daughter after her 8 day camp in Enderby and we have heard endless stories of you kindness and generosity. From signs all over town in stores and homes welcoming them, to coming to their rescue during the rain and drying out their wet beds. There were Girl Guides from around the world and you went over and above to show everyone Canadian hospitality at it finest. THANK YOU!!!!!!
Michelle
A huge thank-you to Enderby and surrounding area for taking such great care of our girls. You rock! Because of you, everyone arrived home with smiles, despite the weather!
Julie
I had two tired daughters at the dinner table last night who couldn't say enough wonderful things about your hospitality, kindness, thoughtfulness, friendliness and warmth. Thank you!
Karen
Thank you to the city of Enderby. This was my 3rd SOAR and NEVER before have I been more weepy eyed leaving a town. Your OVERWHELMING hospitality and willingness to help us out when we needed it was 2nd to none you helped make SOAR 2014 (along with the weather we experienced) one I will NEVER forget. Thank you again.
Jen
I am a Guider, not at SOAR, but following the action from home in Coquitlam. Enderby, what an amazing community! You have made a name for yourself throughout the province for your warmth and welcome, and helping all our members through some tough weather! Thanks from myself, and many many other Guiding families.
Julie
Thank you from my daughter and myself, your city opened its arms and welcomed these girls whole heartedly! A piece of Enderby is coming back home to Medicine Hat, Alberta in ever lasting memories!
Sandra
I want to thank the town of Enderby for being such wonderful hosts for those of us at SOAR. An extra big THANK YOU for taking such great care of us during the storm, for drying our gear and bringing us extra blankets. It has brought a tear to my eye at how generous you all are.
Christina
Parents are overflowing with so much thanks and gratefulness to guiders, leaders and the Enderby community for keeping our girls safe and at peace when we were not able to be there for them. You'll never know how much growth and faith this week has given both the girls and us, their parents. Thank you so much for the gift of such an amazing experience of memories and friendships made that will span a lifetime.
Karen
From the parents of a Guide from the UK thank you to everyone who has been involved in the planing and running of SOAR 2014. Special thanks to the incredible community of Enderby for welcoming everyone to your City and for the help you gave after the storms – it has been heartwarming to know our daughter has been well looked after and we can't wait to hear all her stories once she returns!
Sarah and Andy
just wanted to send a big thank you to your entire community for the care, compassion and support shown to our girls and guiders who have been camping at S.O.A.R. I have heard the stories of how the community has rallied behind our campers following the storm, you are an amazing community!
Teresa
Please pass along my thanks to everyone in Enderby for taking such good care of the guiders and girls at SOAR!
John
The time is almost up with our Beautiful Children.. I just want to personally thank your community for making our kids feel welcomed and at home in your town, for all the help you guys did drying out their stuff and really getting into it by putting GG stuff in your store windows.. what an Awesome experience.. especially for those who come from other countries.. WOW.. what stories they will take home with them ..and maybe someday we will make it there for a personal visit
Jessee
To all the residents of Enderby that helped out the girls of SOAR a big thank you from my wife and I. Our daughter is at the camp and it fills our hearts with joy knowing that a small community can come together to help in a time of need. Again our heart felt thank you
Steve
I just want to say thank you to Enderby for all that you are doing to help our girls and to organizers and volunteers at Soar for keeping our girls safe!
Debbie
Thanks Enderby our girls are being hosted by such a wonderful community!!
Carmen
Thank you Enderby for the overwhelming kindness you have shown our girls! I have shed a few tears after hearing about how great you have been to the girl guides. The residents of Enderby should be proud of themselves!
Amy
Thank you Enderby, for helping our girls stay safe, warm and dry. You are awesome!
Gillian
Thank you Enderby for your wonderful care of our little girls. They will have lots of stories to share.
Connie
you guys are awesome thank you SO much for making sure our girls and leaders were taken care of, dried out and loved on
Fran
Thank you to everyone in Enderby and Armstrong for looking after our girls @SOAR. We can't thank you enough!
Karen
This mom in Toronto says thank you for all your help.
Angela
This mom in Montreal also says thank you
Tara
Enderby has redefined what a "Host Community" means! Thank you!!
Heather
Thank you so much to the entire town for taking such great care of our girls and for opening your hearts and driers in their time of need! Can't thank you all enough, this is one grateful Mom. <3<3<3[/su_quote] [su_quote cite="Angela"]What a great community[/su_quote] [su_quote cite="Cathy Cook (Co-Responsible Guider)"]THANK YOU Enderby! We had a phenomenal response from concerned community residents, and think everything on site has been taken out for drying![/su_quote] [su_quote cite="Leah"]What a great community! Glad everyone is lending a hand to keep the girls dry![/su_quote] [su_quote cite="Tannis"]Enderby is the best community![/su_quote] [su_quote cite="JJ"]Amazing when a community pulls together to help out some kids in need of a caring hand[/su_quote] [su_quote cite="Joy"]I heard some of the girls who had their sleeping bags dried by the firefighters found Enderby Firefighter crests tucked in their bags! What a sweet thing to do!! We all know how much the girls live their crests!!!![/su_quote] [su_quote cite="Julie"]As a Guider following the story from home in Coquitlam, I was so amazed by the kindness and warmth of Enderby! You have become a legend all over the province![/su_quote] [su_quote cite="Janice"]More tears again as I read all the posts. As core staff in Health Services I cannot believe how far the town of Enderby bent over backwards for us all. I'm sad I will miss them all![/su_quote] [su_quote cite="Cara"]There are not enough ways to say thank you to the town of Enderby for your generosity and hospitality. There were quite a few weepy eyes when we heard about "operation dry out our bedding". We are grateful.[/su_quote] [su_quote cite="Brenda"]As a parent of one of those Girl Guides, I and every other parent, leader and girl would like to thank the community of Enderby and Armstrong for helping them through a wet night. Thank you![/su_quote] [su_quote cite="Sheila"]We were delighted to see the welcome put on by The people & businesses of Enderby & the community response helping us after the storm was heartwarming. Very deep appreciation from our Kelowna unit. The "Storm Troopers" sign was also a great touch.[/su_quote] [su_quote cite="Charlotte"]The community of Enderby is the best ever. I knew there was something special about Enderby the night of the parade and the whole town turned out and them at the opening ceremony, but I had no idea just how VERY SPECIAL ! Something to be proud of, you guys are awesome! Thank you ![/su_quote] [su_quote cite="Kim"]Thank you from the bottoms of our hearts!!! Your amazing town went above and beyond and we are so grateful !!!![/su_quote] [su_quote cite="Wendy"]Words cannot say enough about how thankful I am. The people of Enderby deserve their own badge for all the work they did drying bedding and clothes. Thanks so much.[/su_quote] [su_quote cite="Yvonne"]Thank you Enderby and Armstrong! My daughter is now home and told me how awesome everyone was... she will forever have great memories of SOAR 2014 in Enderby.[/su_quote] [su_quote cite="Shelley"]I'm one of the people who was helped immensely. I went to SOAR in an Air Cast for a torn Achilles tendon and the liner was soaked on Wednesday and Thursday. Someone took the liner and dried it for me. Thank you so much. I couldn't walk on my crutches without the boot with all the mud because it was so slippery and I'm very grateful for the help. Thank you again.[/su_quote] [su_quote cite="Heather"]Huge thank you to the town of Enderby!! Just got my tired, dirty but very happy girl guide home and she had a wonderful time! Enderby welcomed our girls with open arms[/su_quote] [su_quote cite="Becky"]As a parent from the UK I would like to say a big thank you to all in Enderby for looking after and helping our girls out when they needed it a massive thank you from all the parent's in the UK x[/su_quote] [su_quote cite="Natalie"]Enderby and surrounding communities, THANK YOU so much for all you have done for our Girl Guide Members during this big adventure. You are much appreciated and we will make sure to return as a family and spend some more time exploring.[/su_quote] [su_quote cite="Kathy"]Thank you so much from Vanderhoof BC for helping the Girl Guides dry out gear. What a great thing for the girls to see and be part of. I have never been to Enderby, I am putting it on my list of places to see.[/su_quote] [su_quote cite="Allison"]All our girls were touched by the kindness acts from the community. As a leader I am grateful to the community, for the signs in the windows, to the waves and applause along the streets as the girls marched through town. I am grateful for the dry bedding as well as your willingness to assist where you could. Thank you again Enderby! We love you![/su_quote] [su_quote cite="Jillian"]Thanks so much to the community of Enderby for welcoming our girls from New Brunswick! So far from home and very fortunate to be staying in a community that cares so much![/su_quote] [su_quote cite="Mandi"]The lesson of community that you have taught these girls is priceless. Thank you[/su_quote] [su_quote cite="Seidi"]The idea that a community would welcome us the way you did was heart warming... To see a genuine smile and warmth on every face we passed, made my heart soar with happiness. The fact that the people of this lovely town endured our noise, buses and bodies crowding the streets then returned fire with an embrace of tender care; taking bags and bags of wet clothing and sleeping bags and returning them dry and smelling sweet. You brought tears to my eyes and joy to my soul.Thank you!!![/su_quote] [su_quote cite="Wendy"]So grateful that my daughter was in the hands of such wonderful caring people thus week. Your town is amazing and your department went above and beyond![/su_quote] [su_quote cite="Teresa"]As a Mom of one of the girl guides that had her wet sleeping bag/hoodie dried by a member of your community I just want to express my gratitude and thanks. So very grateful to a wonderful town and surrounding communities! Thank you!![/su_quote] [su_quote cite="Jen"]WOW! Reading all of these post is bringing back the tears I had when I first heard about the people of Enderby offering to dry our wet bedding. You guys were so helpful in many ways and very friendly! Thank you from the bottom of our hearts.[/su_quote] [su_quote cite="Ron"]As a grandfather and father to two participants, thank you Enderby. It was all about memories and positive ones at that. [/su_quote] [su_quote cite="Marylou"]Thank you Enderby, you have shown heartwarming kindness, exceptional community spirit and open hearts to our girls. We will remain forever grateful.[/su_quote] [su_quote cite="Miranda"]Thank you to everyone in Enderby for helping dry all the wet stuff! You are an amazing community! Thank you too for your warm welcome and keeping us all safe! I'm going to being my family back to do dome more exploring![/su_quote] [su_quote cite="Shelly"]Thank you so much to everyone who helped ensure our girls were safe and dry! You have an amazing community![/su_quote] [su_quote cite="Tanya"]Thank you so much for the care and compassion you showed our girls! I was stunned when I read what the town was doing and so very grateful she was in a community that showed them so much caring and hospitality. Eased my mind a great deal. Hugs to each and everyone of you[/su_quote] [su_quote cite="Emilia"]Thank you so much for helping to dry out our gear! Without the amazing support from Enderby there would have been a lot of girls sleeping in wet sleeping bags![/su_quote] [su_quote cite="Tanya"]What you did for those girls while in Enderby is so wonderful. Never thinking twice about stepping in to help others in a time of need. This goes to show why small communities like Enderby and Armstrong define the word 'Community'[/su_quote] [su_quote cite="Angela"]The people of Enderby are incredibly awesome! Starting with the huge turnout to the parade last Saturday, to the attendance at yesterday's open house, this community has embraced the entire SOAR group of almost 2500. After yesterday's storms, community members put out the word that we needed help, and cars of residents started arriving with people offering to dry any of our wet belongings. Some people came back multiple times, as they had contacted their neighbors, who also helped out drying sleeping bags, clothing, and blankets. Not surprisingly, this outpouring of help caused many Guiders and Core Staff to develop leaky eyes. I've just learned that not only did people dry, and deliver our items to us, but some kind residents also included notes of well wishes in the bedrolls. (More leaky-eyed Guiders). THANK YOU to the people of Enderby, and Armstrong for your incredible community spirit, and the warm welcome you have given us. We are honored to call Enderby our home, even if it is for such a short time.[/su_quote] [su_quote cite="Debbie"]Reading gives leaky eye. They are a GREAT community.[/su_quote] [su_quote cite="Cynthia"]Leaky? Bawling is more like it.[/su_quote] [su_quote cite="Sherrilynne"]Wow crying here just from home. I can't imagine what the "feeling" must be like there in Enderby.[/su_quote] [su_quote cite="Ute"]Leaky here too. Enderby rocks![/su_quote] [su_quote cite="Jen"]I too had tears in my eyes when I heard that, so amazing, thank you very much Enderby, couldn't think of a better site for SOAR[/su_quote] [su_quote cite="Valerie"]We were all feeling the love-- Enderby was so welcoming - and took such good care of us when we could use a hand!! Guiding Law was the law of the event!! Thank you from Quebec![/su_quote] [su_quote cite="Beate"]Thank you Enderby for all you help that you provided for all this girls and Guiders. You are an amazing community.[/su_quote] [su_quote cite="Renee"]Wow tears ! Too awesome thank you Enderby for taking such good care of our guiders and girls![/su_quote] [su_quote cite="Janice"]Thank you Enderby residents for taking care of our families[/su_quote] [su_quote cite="Stephanie"]Thank you Enderby! You're certainly putting a lot of parent's minds at ease! Glad to know our girls are being so well taken care of.[/su_quote] [su_quote cite="Janice"]This is such an amazing town. I am in awe of how the residents have stepped up to help us all during this time of need[/su_quote] [su_quote cite="Stacey"]WOW!!! What a fantastic showing of compassion, kindness and the guiding spirit! Thank you Enderby![/su_quote] [su_quote cite="Becca"]I've been to 5 of the 7 SOARs and I've never seen a community so welcoming of us! Thank you Enderby![/su_quote] [su_quote cite="Michelle"]Thank you Enderby! We won't forget your kindness![/su_quote] [su_quote cite="Gayle"]God Bless the community of Enderby[/su_quote] [su_quote cite="Robyn"]This community is amazing. Can we have the next SOAR here please?![/su_quote] [su_quote cite="Nancy"]They have been the warmest Community in the history of soar[/su_quote] [su_quote cite="Terry"]This is one community I definitely will visit ..... thank you to the amazing citizens of Enderby, you ROCK !!!![/su_quote] [su_quote cite="Debbie"]I would like to send my biggest THANKS to the City of Enderby for letting the girl guides use the site for our SOAR. also would like to send out a big hug to all of your citizens for the help of drying our clothes and special notes we received, love you all. I had a great time, and hope someday be able to return the great favour. I live in Quesnel BC.[/su_quote] [su_quote cite="Dave"]My daughter attended SOAR as the NL contingent leader. She stopped in on the way home yesterday, still on a high from the event. She had a wonderful time and was full of praise for the organizers, the townspeople and Enderby. As a 45 year Scouter, I can relate. You have raised the bar quite a few notches and the next host city will be hard pressed to reach it. Thank you for making the event such a success and a very special thank you to all who stepped up to assist after the storms.[/su_quote]