Update: The first Enderby Volunteer Fair was a huge success! A big thank you to all those who attended and all the volunteer groups who set up a booth, Enderby's volunteer spirit is truly inspirational! Congratulations to Renee Sulin who won the draw for a $50 gift certificate to a local Enderby business for attending the Volunteer Fair!
Are you an Enderby-based group looking for new volunteers? Are you an individual looking for the right way to give back to your community? If so, you will want to attend the Enderby Volunteer Fair which will connect volunteers with the local groups that make Enderby great.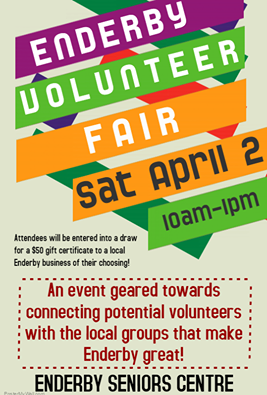 The Enderby Volunteer Fair will be held on Saturday April 2nd from 10:00 am – 1:00 pm at the Enderby & District Seniors Centre (1101 George Street). The event will be a no-pressure way for local groups to connect with potential volunteers by answering questions, discussing opportunities, and distributing resources and literature. All those who attend will be entered into a draw to win a $50 gift certificate to a local business of their choosing!
"One of the great things about our community has always been our strong volunteer base. This event is a great way for us to further strengthen this volunteer base by connecting volunteers with those who are in need," explained Mayor Greg McCune.
Photography courtesy of Jackie Pearase.