After completing a public engagement session, the Enderby & District Services Commission adopted a conceptual plan for Barnes Park in 2015.
Key features of the concept plan include:
Tennis and pickleball courts
Spray park
Age-friendly fitness equipment
Shade trees
Pool patio area
Enhanced signs and access
The concept plan will be used to plan for capital improvements and seek grant funding. The first addition to the park will be age-friendly fitness equipment, which is being funded through a $20,000 grant from the New Horizons for Seniors, a federal funding program. The equipment will be installed in Fall 2015 or Spring 2016. Other features will be added in accordance with capital planning, grant funding, or community fundraising.
Click the thumbnail for a full-size download of the plan.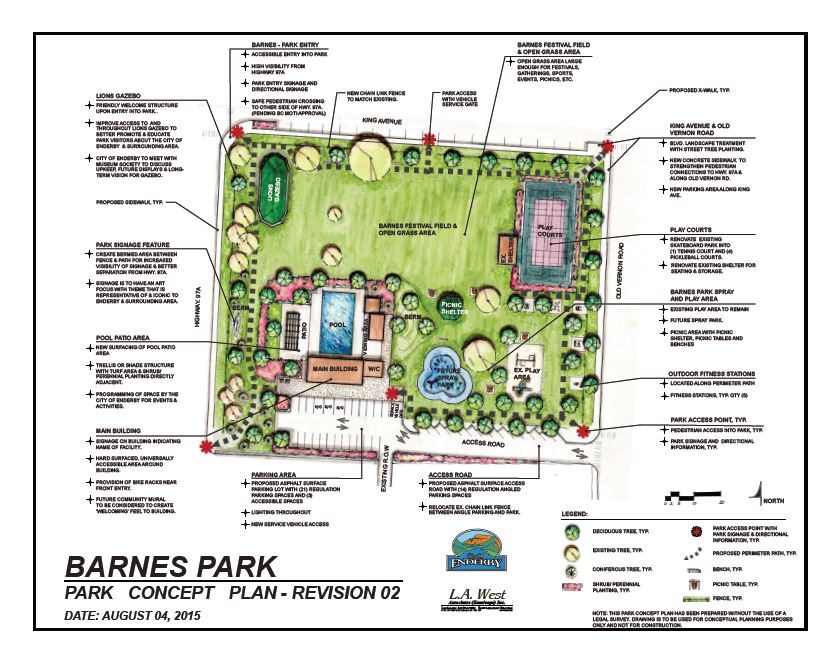 In 2014, the Enderby & District Services Commission began a conceptual planning process for Barnes Park in Enderby. The goal was to ensure that new facilities added to the park would fit into a master plan for the park over the long term. The process involved an open house and inviting comment through a variety of ways, including online.