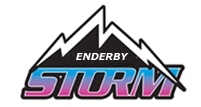 With a first-place victory under their belts at the 2015 Provincials, the Enderby Minor Fastball U-14 Girls (aka Enderby Storm) received a first-class reception from the City of Enderby.
Mayor, Council, and community groups including the Enderby Lions gave the team a victory celebration to remember. A fire truck parade, photos at City Hall with Enderby and Splatsin Councils, and a meal at the Lions Gazebo in Riverside Park. And did we mention cake?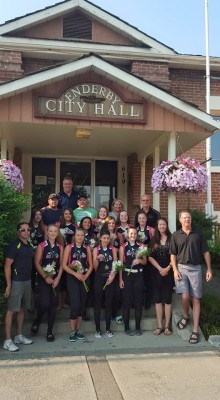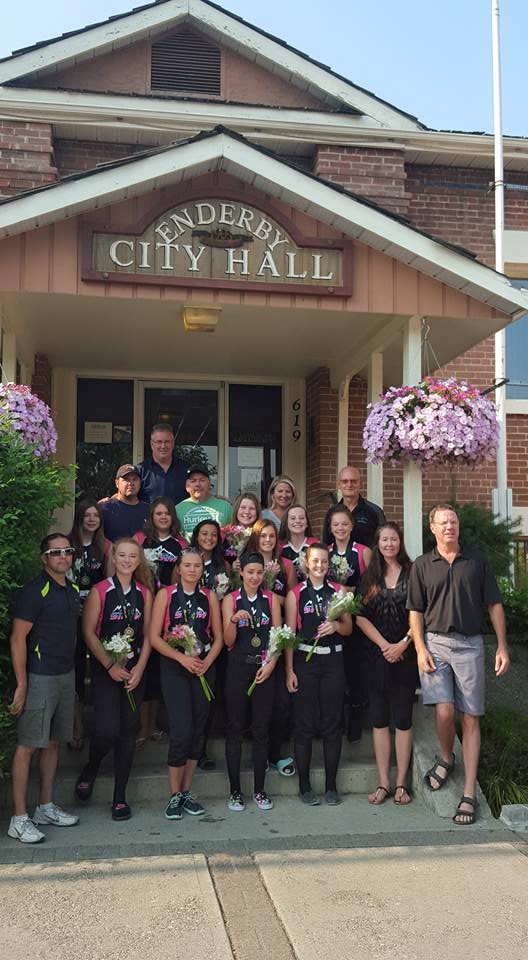 Tonight (July 9, 2015), the City of Enderby celebrated the spectacular accomplishment of our U-14 Girls as British Columbia Provincial Fastball Champions.
This group of incredible young ladies, along with their coaches Rose Agricola, Joey Sherman, and Dave Belway, and many family and friend supporters, won the Championship last weekend in Coquitlam.
From the opening pitch of this season this group believed and worked extremely hard toward this goal. Hats off to everyone that is a part of Enderby Minor Fastball. Also we would like to congratulate Brooklyn Hay from the U-19 Storm who was picked up by West Kelowna for the Provincials. Brooklyn came home with a Bronze Medal. Thank you all for a fantastic season and look forward lots of Storm victories in the Spring of 2016!
Greg McCune
Mayor of the Best baseball City in the Province
All photos courtesy of the Enderby Storm.