The building business is booming in Enderby. With a total building value of $10,804,260, Enderby is hopping with new activity to the tune of a 228% increase over 2016 values.
"The building boom is great to see. I think that what excites me most is that we are seeing development across a spectrum of housing options," said Enderby Mayor Greg McCune. "As housing prices increase, it becomes more important that we see our housing spectrum diversify. We are seeing seniors' supportive housing, manufactured and modular housing, condominiums, and single family homes all developing at the same time. That says a lot of great things about our community as a desirable place to live."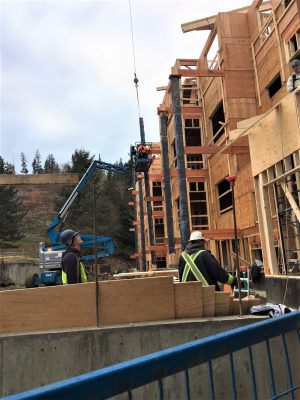 Highlights from the 2017 building report show 40 new residential units created during the year, with several more under construction. This is a sharp uptick from the 5 new residential units created in 2016. Many of the new residential units are related to the second phase of Memorial Terrace, a supportive housing complex for seniors that is being built by BC Housing.
"Building activity is hot throughout the region, and it's great to see Enderby get a piece of it," remarked McCune. "While politicians may not be able to sway the larger trends, we have worked very hard at our level to trim our turn-around times for planning applications and open up our land use bylaws to permit more diversity in housing options. This has included coming up with a lower-intensity multi-family zone that will be less likely to affect the character of existing neighbourhoods and permitting detached suites like carriage houses. All of this goes toward promoting attainable housing, which is especially important for our young families and seniors."
While 2017 was a banner year marked by some very large projects, McCune is optimistic about the activity continuing. "Will every year be as big as 2017? Probably not. The important thing is that we have the right fundamentals in place, so that when the big projects come along, we are ready. Those efforts paid off, and I am thrilled to see so many people investing in our community."