Enderby water is precious. Be water wise – help conserve water! Give our environment a helping hand and save a little money while you are at it.
When you save water, you help contribute to these good things:

Improve conservation – changing your habits now will help keep the community's water demand within the limits of our available sources and drinking water production capacity.
Defer capital costs – by using less water, the City can defer expensive upgrades to its water and wastewater facilities, which will enable these costs to be spread among a broader tax base (lessening the burden to each individual user), build its capital reserves (lessening the need to increase taxes), and apply for senior government grants (to offset tax increases).
Lower operating costs – the operating costs of the utility are billed back to the customer through the user fee. Reducing your consumption will reduce variable expenses, such as energy costs associated with pumping water.
When you save water, everybody wins!
How to Save Water
Just follow the 3 R's to save water (click to expand):

Enderby Water Meter Program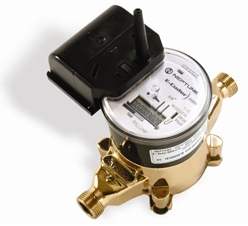 Water meters promote conservation which saves money for all of us by delaying infrastructure expansion. Water meters also allow for more equitable billing so customers using more water pay more while customers using less water pay less.
Did you know that a steady drip from a leaky faucet can waste up to 55 litres of drinking water in 24 hours, a constant dribble can waste up to 220 litres in 24 hours, and a steady stream can waste up to 880 litres in 24 hours?
The City completed a trial "mock billing" period in 2014 to give residents and businesses an opportunity to adjust consumption habits and fix leaks.  Beginning in 2015, the City started charging a metered rate for water. Bills will be sent three times per year. The bill will also include sewer and garbage fees, which will be removed from your property tax bill.
Did you know that the most common sources of leaks are underground irrigation, toilets, and faucets? Locating and fixing all leaks will save you water and money.
Your water meter can do a lot more than just measure your water use for the purposes of billing. It is a tool that you can use to monitor your own consumption and identify leaks. Just wave a flashlight over the face of your meter register (be sure to aim it at the small flashlight symbol) and a digital display will appear. Here is the information that you can get from the digital display: